MOROCCO | TAGHAZOUT BAY surf feed
TAGHAZOUT BAY | MOROCCO
SURF LESSONS | SWIMMING POOL | YOGA | PRIVATE BATHROOMS| FOOD
Our Surf Camp is centrally located in a nice and quiet area of Taghazout Bay, Tamraght – Morocco. The surf camp offers ocean views over the entire bay. The surf camp enjoys high-standard accommodations with only private bathrooms, a lush garden, a yoga roof, swimming pool, snooker table and lots more. The surf camp is located on walking distance from the famous surf spots like Banana Point, Devils Rock, Crocro Beach. Situated just a short stroll away from other world-class surf breaks, our surf camp house is an ideal place for surfers of all levels of experience. With our surf package "one package fits all" and very competing prices, we offer a unbeatable price quality surf package. Arrival at our Solid surf camp in Morocco is possible on any day!
WHY US ?
You get to surf a variety of some of the world's best waves
We serve daily freshly prepared food by our in house chefs. Vegetarian, gluten & lactose free, is available.
Our 1000m2 Villa has only private bathrooms, incl towel service.
Morocco is great for ALL surf/yoga abilities, ALL year round
Discover Morocco and experience their amazing hospitality!
"ONE PACKAGE FITS ALL"
What is included based on 7 days stay ?
Breakfast (vegetarian – gluten & lactose free available)
Lunch (vegetarian – gluten & lactose free available)
Dinner 5 x* (vegetarian – gluten & lactose free available)
All rooms with private bathrooms
Towels service (not for the beach)
Wifi
Pool table
Large outdoor swimming pool
Terrace heaters & Blankets
Daily cleaned rooms
24/7 Surf house team onsite
Arrival on any day and time
*friday no dinner
+ THE SURF (INCLUDED)
Daily surf transport (all level)
Daily surf guiding (all level)
Dusk till Dawn sessions (intermediate & advanced)
Daily board & wetsuit
Daily surf lessons, ± 2Hrs
Daily free surfing ± 3Hrs
+ THE YOGA (INCLUDED)
Vinyasa style/ surf Yoga
All levels
Daily morning Yoga 07.30 – 08.30**
Daily evening Yoga 17.30 – 18.30**
** Sunday no Yoga
+ EXTRA'S
Weekly surf video analysing evening
Weekly surf & wave theory evening
+ EXCLUDED
BBQ on Saturday: €10,- p.p
SURF INSURANCE – Better surf then sorry: €25,- p.p.p.w.
SHARED ROOM INCL. "ONE PACKAGE FITS ALL"
Closet | Safe | Wifi | Towel Service
€ 349,- / £ 319,-
STANDARD ROOM INCL. "ONE PACKAGE FITS ALL"
Private bathroom | Shower | Closet | Safe | Wifi | Towel Service
€ 379,- / £ 339,-
DELUXE ROOM INCL. "ONE PACKAGE FITS ALL"
Private bathroom |Shower | Flatscreen TV | Closet | Safe | Mini Fridge | Wifi | Towel Service
€ 399,- / £359,-
SUPERIOR ROOM INCL. "ONE PACKAGE FITS ALL"
Private bathroom | Baththub | Shower | Flatscreen TV | Closet | Safe | Mini Fridge | Wifi | Towel Service
€ 429,- / £ 389,-
CROW'S NEST INCL. "ONE PACKAGE FITS ALL"
Private bathroom | Bathtub | Shower | Flatscreen TV | Closet | Safe | Mini Fridge | Wifi | Towel Service
€ 429,- / £ 389,-
EXTRA OPTIONS
PARADISE VALLEY EXCURSION
Discover a different side to Morocco on our part-day trip to the beautiful valleys, just a 30-minute drive from Taghazout! Let us take you on an exotic adventure through the palm trees, rivers and waterfalls of Paradise Valley.
Enjoy a twenty-minute walk through tree-covered hillsides and across stepping-stones over rivers and streams on the way to pure paradise! With 300m sheer drops, small waterfalls, and an abundance of palm trees, the beauty of Paradise Valley will take your breath away. Slide down one of the natural waterslides and plunge yourself into pools of clear blue water from the rocks above. If you're feeling particularly courageous there are 5, 10 and 15m cliff jumps!
On the return journey we will stop off at a local "Coopérative" where Berber women will show you how argan oil is made. You will also have the chance to sample and buy 100% pure argan oil, amlou (delicious peanut butter made with almonds, argan oil and honey), mint tea and various other medicinal and cosmetic products – perfect gifts for loved ones!
This best time for this amazing trip is from December till May/June.
Price: 15 euro
Enjoy a three-hour drive through vast dry planes, argan plantations and nesting tree-goats on the way to the fortress and relaxed seaside resort that was once a haven for pirates! Essaouira is a quintessentially Moroccan town and is considered one of the most attractive places along Morocco's Atlantic coast. The fortress was originally built by the King of Portugal in 1506 and consists of an amazing mixture of Portuguese and Berber military architecture.
Explore the streets within the Medina and try your hand at bargaining in the souks, where you will find an abundance of spices, slippers, carpets, woodwork, jewellery, silverware, pottery and artwork, as well as second-hand and collectable items. Essaouira is home to Morocco's best marquetry craftsmen who devote their time to cedar and thuya wood carving. Visit one of the carpentry workshops where artistically skilled men use all their ingenuity and imagination to produce novel shapes and pieces of furniture inlaid with different coloured woods and mother of pearl.
The town was once one of Morocco's largest sardine ports and it still has its traditional shipyard. Take a stroll around the fortified harbour, see boats being constructed and experience the daily fish auction. If that gets your taste buds going, why not sample some freshly grilled seafood at one of the many stalls adjacent to the main square. Simply delicious!
Price: 30 euro
Prepare yourself for a magical day of culture, sightseeing and shopping! The day will be spent exploring the bustling main square, Place Djemaa el-Fna, with its many attractions such as snake charmers, monkey handlers, acrobats, musicians, henna artists and market stalls selling freshly squeezed orange juice and confectionery.
Your adventure will continue as you test out your bargaining skills and lose yourself in the labyrinth of never-ending souks, where you will find clothing, slippers, jewellery, spices, carpets, leather bags and belts, pottery, woodwork, waterpipes and musical instruments!
Be taken back in time and explore the historic workshops dedicated to carpentry, leather ware and metalwork. Traditional methods are still used to this day and workers hammer away at hot metal shaping it into everyday items such as lanterns, furniture and teapots.
Discover the incredible Moorish architecture of the Koutoubia Mosque, the zellij tilework within the Bahia Palace and the exquisite carved plaster and engraved wooden lintels that decorate the Ben Youssef Medersa. Visit one of the city's museums or art galleries, or take a leisurely stroll in the stunning Marjorelle Gardens.
Try out some traditional Moroccan cuisine or simply enjoy a refreshing mint tea on one of the rooftop terraces while taking in the fantastic view of the beautiful and inspiring Red City.
Price: 35 euro
We offer a insurance for just 25 euro a week that covers any damage or loss to our equipement (surf boards & leashes) while surfing. This includes breaking of boards, loss off fins, snapped leashes or dings / cracks on the boards caused by surfing.

THE SURF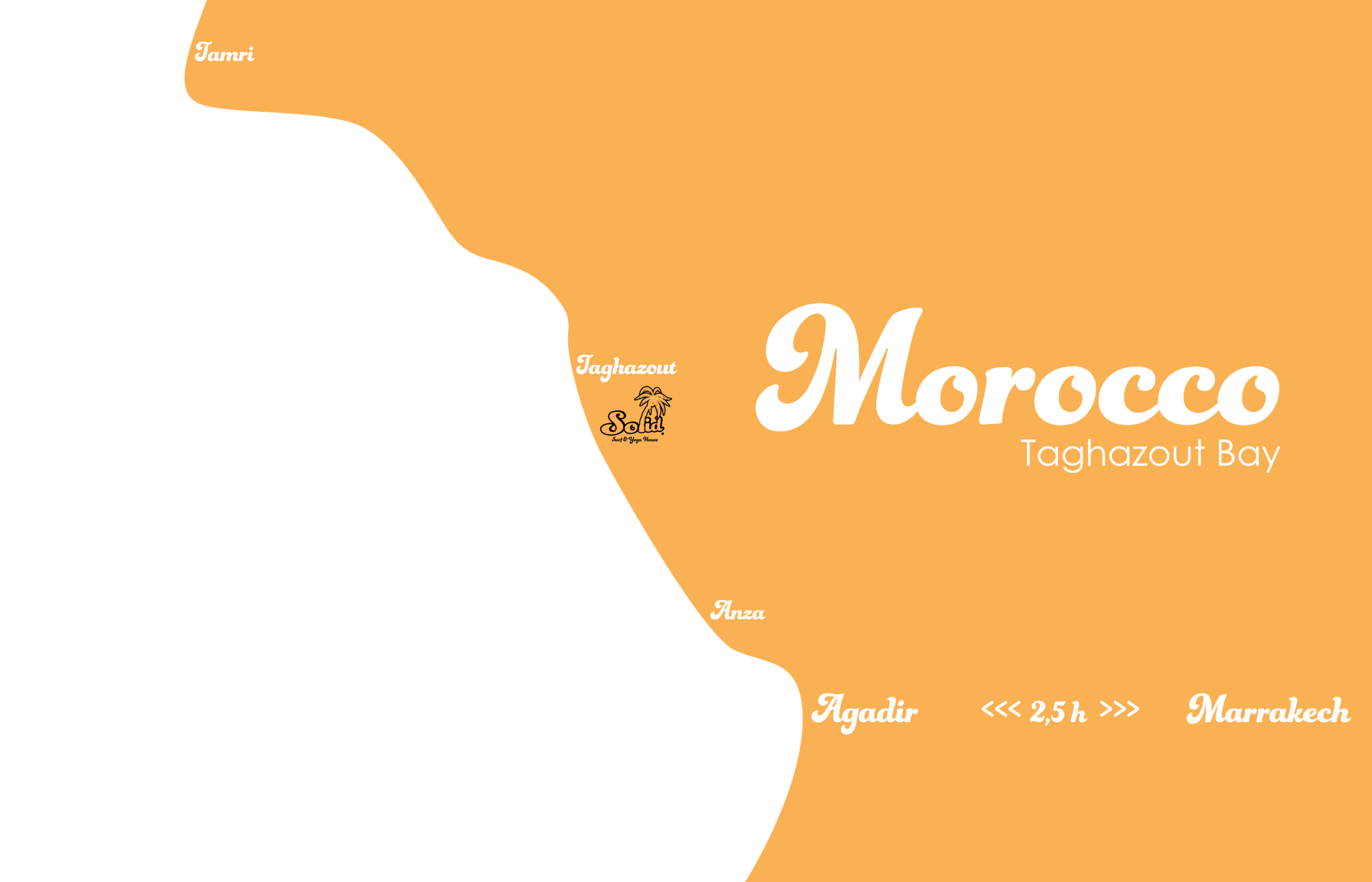 Panorama - K17 - Crocro Beach
Boilers
Drakula`s
Anchor Point
Mysteryes
Killer Point
Devils Rock
Banana Point
K11 & K12
Anza
Panorama
Tifnit
Agadir
All Level Surf Spot - Beginner to Advanced depending on the wave size.
Intermediate Level Surf Spot - Intermediate to Advanced depending on the wave size.
Advanced Level Surf Spot - Advanced surfers only!
Empty section. Edit page to add content here.
SOLID SURF HOUSE
holiday@solidsurfhouse.com
Jalan Raya Semat
Gang Bekul Canggu – Kuta
Indonesia
powered by